I took on a RUSH job Friday afternoon that was needed by end of the day, Monday, for a new client. I sent three proofs Monday morning around 11AM. The client was extremely happy with the proofs and sent them to his client for their proofing and approval. A couple hours later my client replied, saying "they loved #3". You have to love it when a client is happy with the design and has NO changes or edits. Wish I had more like this one….
These are the instructions for the job from my client.
I had a question regarding possible t-shirts for a school event. I'm on the student association at xxxxx University, t shirts for a spirit week event. They would be red shirts, with white font saying "Stags Unleashed 2011". Under the logo, we were imagining a fire hydrant with 2 leashes attached to it. At the end of one leash is a little dog, sitting nicely as if they were waiting for their owner. The second leash does not have an animal at the end,, as if the animal broke off, or got "unleashed." Standing nearby the leash would be a muscular, jacked up stag who broke off of his leash.
Here are my layout submissions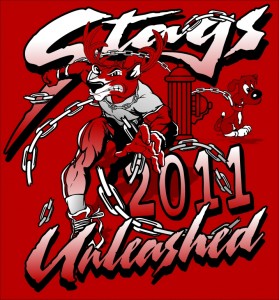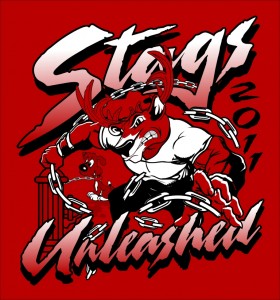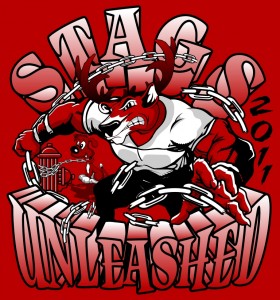 The design was separated as a 3 color print. White underbase, Black and a Highlight White. I am excited to see the final shirt.
Art Created in CorelDRAW, separated in CorelDRAW and sent to client for film output in CorelDRAW. I Love it when my clients use CorelDRAW. Feel the love!